CUSTOM BUTTONS & PINS FOR PROMOTIONAL USE, POLITICAL CAMPAIGN
Most amazing button ever! Affordable in small quantities at low prices!

Each FLIP IMAGE Button has two images. As you walk past the button, it flips from one image to the other - and back again.
Choose the political stock design shown here - or submit your own images for an entirely custom button. (See details below.)


Printed in full-color on heavy duty plastic.


Lenticular plastic is affixed to a metal shell with a plastic backing and a full standard safety pin attachment.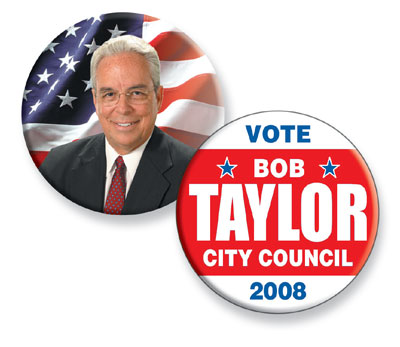 PRODUCT DETAILS
Finished Size: 2-1/4" diameter
Material: 18 mil. 75 lpi lens is affixed to a metal shell with a plastic backing and a standard safety pin attachment.
Imprint: Prices include logo artwork and/or typesetting up to 5 lines of copy.
---
Create your own custom button with Lenticular Image Printing. 3d buttons, campaign buttons, photo buttons, novelty buttons, promotional buttons, and other personalized buttons are available in custom images sent by the customer.
Lenticular Buttons are an inexpensive way to promote your business, event, or campaign while maximizing novelty. Lenticular printing attached to a metal shell with and plastic backing and safety pin. Advertise on a mass scale with large quantities of eye catching 3d buttons for clothing. The subtle and effective advertisement power has been utilized in the form of political buttons, novelty buttons, military buttons, and promotional buttons for a great length of time. The utility of buttons and the ability to put them anywhere on clothing give the button a powerful way to promote your business.
Allowing yourself and those who support your cause to be walking advertisements will cause people to view your button at a large scale. Using your own creative and personalized design to catch the eye of potential supporters' or customers' will persuade them to see an advertisement that they may not have initially paid attention to.
The high quality buttons can be made into 3d buttons or other types of custom buttons which are a cool accessory as well as a way of promotional advertising. Send your own designs to Lenticular Image Printing, or choose from their supply of stock images at no extra charge. Change the image as people walk past to turn heads and chisel the image within the brains of viewers. The button designs are printed in rich and vivid colors and allow up to 5 lines of copy. Lenticular Image Printing offers the best 3d button selection and affordable in small quantities as well as large at low prices.
Make sure that your badge is engineered with the utmost quality and is as unique and customized as your business. Wear your own designs and advertise in an attention grabbing fashion, cut through the heaping clutter of advertising and imprint your custom image on a button from Lenticular Image Printing.