CUSTOM KEY TAGS FOR PROMOTIONAL USE - GREAT FOR KIDS & BUSINESS GUESTS
Available in small quantities and low prices!
Front Side: Each Flip Image Key Tag has two images.
As you move the Key Tag the image flips from one image to another - and back again.
Back Side: Features your 2-color imprint.
Choose from 4 lenticular stock designs - or submit your own images for an entirely custom key tag.
Made of extremely durable laminated plastic (round corners)
Includes attached key ring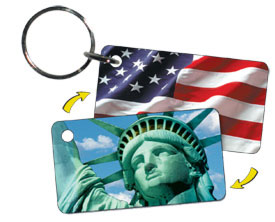 PRODUCT DETAILS
Finished Size: 2-3/8" x 1-1/4"
Material: 18 mil. 75 lpi lens w/laminated back.
Final Thickness: 21 mil.
Imprint Area: 2-1/8" x 7/8"
Imprint: Prices include logo artwork and/or typesetting up to 5 lines of copy.
Standard Ink Colors: Black and/or Red.
Custom Flip Image
To Order a Custom Flip image...
Simply submit two images and we'll do the rest.
Click here to view template

---
Lenticular printing offers custom key tags including promotional key tags to promote your business and enhance your personal effects. The polished and refined style of the personalized key tags offer a brilliantly vivid image of your choosing and a sense of unique style and advertising prowess unmatched by any other custom key tags out there.
The brilliantly designed key tags flip from one image to another giving the visually appealing illusion of movement within the confined area of a flat surface. The holographic custom key chain tags can be supply by lenticular stock designs or can be imprinted with your own custom company logo, slogan, or whatever other two images you would like to interlace and create a compelling 3D personalized effect.
The cutting edge technology of Lenticular Image Printing allow up to five lines of copy to be imprinted on your key tag as well to help brand your business and advertise your business. These custom key tags are available at small quantities for low prices as well as larger quantities. Hand out customized key tags at events or local establishments as an inexpensive marketing tool. Make your business known and be seen as a company who embraces creative solutions to the ever present challenge of advertising.
Lenticular printing has been around since 1940 and now has updated technology which enhances the quality of the design and the fluid appearance of motion of your flip image key tag. The attention grabbing utilization of lenticular technology is an effective tool at any size. Airport billboards advertise by changing the content of the billboard as the perspective changes. Why not implement the same high tech visually enticing technology that airports use on a smaller scale and in mass quantity. Custom key chain tags with your own unique image or logo imprinted offer a chance to brand your business with an image that is difficult to ignore.
Each key tag is printed with your design as well as your 2-color imprint on the back and is made of extremely durable laminated plastic with an attached key ring included. Take a look at your keys and witness the effectiveness and continuous durability of the key tags you have. Now it is possible to advertise your company with customizable imprints and the fluid motion that lenticular printing has to offer.