PERSONALIZED LUGGAGE TAGS FOR NAME, ID, PHOTO, CUSTOM DESIGN
Available in sm1all quantities at low affordable prices!

Front: Each Flip Image Luggage Tag has two images which flip back and forth from one image to the other. Your advertising copy remains visible at all times.
Back: Is a smudge-resistant write-on surface for the luggage owner's contact information.
Choose from 4 stock designs..
Luggage Tag 6" clear loop straps are included (bulk packaged)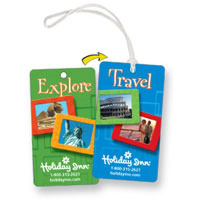 PRODUCT DETAILS
Finished Size: 2-1/2" x 4-1/4"
Material: 18 mil. 75 lpi lens w/ laminated back.
Imprint Area: 2"w x 1-1/4"h
Imprint: Prices include logo artwork and/or typesetting up to 4 lines of copy.
Custom Flip Image
To Order a Custom Flip image...
Simply submit two images and we'll do the rest.
Click here to view template

---
Also available in small quantities are custom luggage tags including promotional luggage tags and photo luggage tags lenticular printed with your business logo or slogan. Make sure your advertisement is never ignored or simply another blended in aspect of advertising clutter that surrounds everyone. Make your imprinted logo visible by a wide variety of people using luggage tags that change based on viewer perspective.
The same holographic technology that is used outside of the airport on the billboards can now be used on luggage in the form of lenticular luggage tags which are made of smudge-resistant writable surface for owner identification and fixed with 6" loop straps. Ensure that clients and customers never lose their luggage as well as their loyalty to your business. The luggage tags are designed in a way that your company logo remains visible at all times, but offers a dynamic background that changes colors as well as images through holographic illusion.
Imprint the luggage tag with your own corporate logo as well as any other images you wish to blend together in an extravagance of advertising technology. Create a more dynamic and appealing promotion with luggage tags that reflect not only your company logo and image, but also creativity and endless options of a picture that comes to life before the eyes of viewers. The superiority of lenticular printing on luggage tags to that of boring and pass still frame photos is immeasurable. Why wouldn't you want to be on the cutting edge of promotional technique that is proven to draw more attention than the run of the mill still frame photos of old?
Available in small and large quantities at affordable prices, custom luggage tags offer an effective way of advertising that is more easily attainable that you would think. Instead of spending fortunes on an advertisement cannot be distributed, put your image on something that you can give to potential clients and customers alike and that offer a practical usage aside from branding your business.
The wide usage of luggage tags results in a great opportunity for you to ensure that your advertisement will be seen, and the lenticular image technology ensures that the design will draw attention. Personalize your advertising and your luggage with custom luggage tags from Lenticular Image Printing and make sure your luggage or customers are never lost.