3D SPECTRA-IMAGE CUPS - A COOL DESIGN WITH BIG REWARDS
Reusable & Dishwasher Safe


Lowest minimum anywhere!


Low, affordable prices!


Large16 oz. capacity size!


Stock designs or Custom Cups



Spectacular 3-D Effects! 3-D "Spectra-Image" Plastic Cups will amaze your customers.
Our vivid 3-D image technology is virtually impossible to ignore.
Guaranteed to get your name noticed and leave a lasting positive impression.
The illustrations shown here cannot do justice to these spectacular 3-D images.
They must be seen to be believed.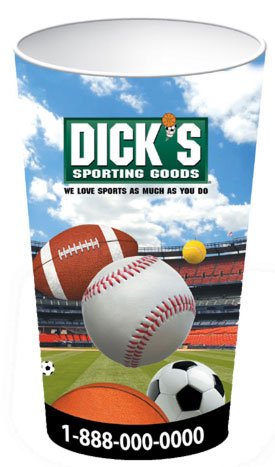 PRODUCT DETAILS
Cup capacity: 16oz. Height: 5-3/4"
Material: 14 mil. 100 lpi lens, molded to high impact styrene cup.
Imprint Area 1: 2"w x 2"h - Logo and company name
Imprint Area 2: Your copy appears on one line, wrapping the cup. (65 character maximum)
Imprint: Prices include logo artwork and or typesetting.
Lid Information: Made from recyclable LOPE - Low Density Polyethylene. Flexible, tough and unbreakable. Straw slotted lid. Fits tight.


---
Amaze your customers with cool 3d cups printed with epic quality at an affordable price. Brand your company with our cups imprinted with your company logo or slogan and make a lasting impression on clients with vivid images wrapped around our 16 oz. coffee and espresso cups.
Advertise your company using our "Spectra-Image" technology which is virtually impossible to ignore. The highly durable coffee and expresso cups are of the best quality and will do wonders for branding your business as well as supplying viewers with rich images that need to be seen to believe with lenticular printing.
Our cool cups are effective advertising for any business that wishes to promote their company using inexpensive methods which can be produced at a mass volume. The cups are nearly unbreakable and washable so that your message will be viewed use after use. The 3d imaging can be supplied by the stock images that Lenticular Image Printing has or your own unique image can be imprinted on the cups for maximum company branding and creative promotion.
Lenticular cups have many benefits that ordinary personalized cups do not have. Cool cups are one of the items that can create a lasting impression on customers. The coffee cups are resistant to any type of abuse or environment; take them camping, on a picnic, or just make them your customer's favorite cup at home. People do pay attention to what they drink from, why not brand your business and be seen as a company with a creative approach to advertising by putting your message on cool cups that are utilized by everyone.
As with other products offered by Lenticular Image Printing, the high quality images are vivid and will stand up to even the toughest of conditions. Ensure that your company image and message will stick around through years of use and abuse. Subtlety advertise effectively through our cool cups a low, affordable price. Lenticular Image Printing ensures that your beautiful 3d cup will look exactly the way you envisioned it and that your customers will enjoy the high quality and visually pleasing nature of your cool new cups.
The visually appealing quality of the new technology of image printing on our best coffee cups and expresso cups cannot be done justice by a simple website illustration. The rich quality and texture of our personalized cups must be witnessed in all of their glory in order to believe. Also see what other customizable products that Lenticular Image Printing has to offer your business. Small and inexpensive advertisements have a profound way to break the mold and get your company noticed. Try lenticular business cards, buttons, bookmarks, key tags, and coasters imprinted with your images to get your company recognized on a daily basis.