PLASTIC RULERS
PVC Plastic Rulers... a dynamite marketing tool, for a lasting impression. Rulers are ideal give-aways for almost every organization.
Business
School
Bank
Printer
Stock Broker
Police Department
Automobile Club
Insurance Agency
Real Estate Broker
Pharmaceutical Companies & more...
Available printed in full-color process: Whether you choose 1, 2 or 4-color process, the price remains the same.
(Note: if a PMS color match is required, we will do our best to match the color in 4-color process.)
Available in 10 mil., 20 mil. or 30 mil. plastic:
All rulers are printed on white matte finish PVC plastic (not over laminated).
Available printed on 1 or 2 sides
Custom sizes available: Please call for quote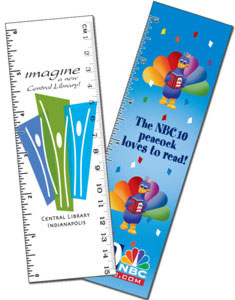 PRODUCT DETAILS
Actual size of 6" Ruler: 1-5/8"w x 6-1/2"h
Image size with bleed: 1-7/8"w x 6-3/4"h (1/8" bleed all around)

ARTWORK REQUIREMENTS: Provide artwork on CD or E-mail (jgrubb@orangecs.com) created using PC or Macintosh versions of Illustrator, Freehand, or Photoshop.
Artwork may be sent as application files, .eps files, .tiff files or "print optimized" PDF's.
All artwork must have a resolution of 300 dpi or more.
Files must include all fonts used as well as .eps or tiff images.
Artwork should be supplied as CMYK for color accuracy.
A color printout must be included with all electronic artwork.
Click here to view template
---
Plastic rulers are an ideal giveaway at almost any organization. Advertise using our high quality PVC rulers that can stand up to consistent use and abuse while advertising your business effectively and practically. Choose from our wide variety of stock image or submit your own freehand, printed, photo shopped, it doesn't matter; if you can dream it, we can print it with lenticular printing.
Available in 1, 2 or 4 colors, our rulers can be as professional or quirky as you deem necessary in order to advertise your business effectively. Our plastic rulers are top quality and available in 10, 20, or 30 mil. plastic. Custom sizes are also available upon request. Ensure that your advertisement is on an object that will likely not simply be viewed and discarded, but will be repeatedly gazed upon and used. The larger frequency in which your advertisement is viewed on our plastic rulers, the more likely people will be to learn more about your company.
Distribute the plastic rulers at schools, banks, libraries, and other applicable businesses to offer them a product that will prove to be useful to them and will offer great advertising opportunities for you. Break the advertising mold that usually involves mundane and impractical fliers that simply take up space and are discarded after one forgettable viewing.
Impress your clients with vividly colorful plastic rulers that capture your businesses' flare and creativity with designs limited only by your imagination. If you are having trouble cooking up a unique image to go along with your advertisement, simply submit an idea or any input and let our graphic designers handle the rest.
Create a lasting impression, unlock your creative ability, and advertise in a way that will put you above the clutter of modern advertising by utilizing the power of plastic rulers supplied by Lenticular Image Printing.